The Milton Cemetery is very unusual in that it has been used continuously since the town's inception. The result is a collection of memorial art representing most phases of its fashion in America. Complemented by beautiful landscaping, this is one of Milton's most important sites.

Of prime importance is the Old Burying Ground, long since incorporated into the larger cemetery, especially the sections identified as "Purchase No. 1" and "Purchase No. 2" which contain the oldest gravestones. Not only are the monuments contained herein historically and iconographically significant, but they are considerably endangered. Here are found pale greenish-grey slates quarried in Dorchester, grey-black slates peppered with tiny garnets quarried in Harvard, purple slates from the South Shore, and a variety of other slates, shales, and occasional fieldstones from other unknown locations. These gravestones are long, thin slabs, smoothed and carved on one face, with a rough tapered portion descending into the ground to anchor them upright. Carved primarily in the eighteenth century, the markers in this area are decorated with many of the mortality and resurrection images typical of that period. These include skulls, winged skulls (or "death's heads"), bones and crossed bones, a snuffed candle, hourglasses, a scythe, the Latin phrases "memento mori" and "fugit hora", columns of fruit and vegetation, and winged effigies (or "cherubs"), heavenly representations of the deceased. Amidst the glowering depictions of Death and risen spirits are a few actual attempted portraits. By the 1790's and well into the next century, fashion dictated neoclassic designs; slate gravestones toward the back of Purchase No. 2 and in Purchase No. 3 have urns or urns and willows in their tympanums. Milton apparently had no local stonecutter during this period, so grave markers were purchased elsewhere and brought in. The few seventeenth century examples came from William Mumford's shop in Boston's north end. Many of the eighteenth century stones, from its earliest years, came from the busy Foster family workshop in Dorchester. Other gravestones were furnished by Henry Christian Geyer in Boston, Caleb Lamson in Charlestown, the Pratt family shop in Abington, the Dwight shop in Shirley, William Park in Groton, Barney Leonard in Bridgewater, David Linkon in Norton, the Soule workshop, James New in Attleboro, and several other unidentified, or tentatively identified, carvers in and around Boston, including Mumford's apprentices. Because stones were procured from so many sources, the variety of individual styles evident here is relatively great. This "collection" probably wouldn't have occurred, at least to such an extent, if the work of a local artisan had been dominant. Family connections probably account for the preponderance of Foster carvings. The product of Daniel Hastings in Newton, however, though popular throughout eastern Massachusetts, is curiously absent. With fewer vernacular traits and showing less originality, the urn-and-willow type remain largely unresearched, although one here is signed, "B. Adams Sculptor". The overall artistic quality of these gravestones is high. Shops generally produced higher and lower quality at commensurate cost; it must be surmised that price was not the first consideration of these early Milton families when ordering monuments. Add the cost of sledging the massive slates from as far away as western Middlesex county, and the scale of investment becomes impressive. The case for initiating any possible conservation is clearly made in acknowledging the historical, genealogical and artistic importance of these early bas relief sculptures. Before presenting my assessment of their conservation needs, it may be useful to describe a few unique or exceptional examples found in Milton, standing out from the many thousands I have studied around New England.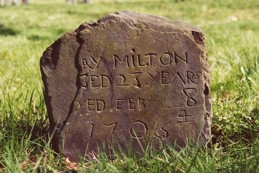 MARY MILTON, 1704/5: This is one of a very small group of early stones, simply peaked in shape and plainly lettered without decoration, found around Boston. Similar stones stand in Roxbury's Eustis Street Burying Ground. They are crudely but competently done, and may represent someone's first efforts at carving or a short-term occupation.
MARY BATES, 1799: The face in this tympanum has been awkwardly changed from that of a skull to one that is cherubic, altering the stern, admonishing quality of its original design. 1799 is very late to find death's heads, except in the most rural places, so it is very likely that an earlier "bland" (stonecutters were known to warehouse these) was made over to suit current fashion.
ISAIAH CREHORE, 1776: This is a seventeenth century gravestone by William Mumford. Its inscription field has been scraped down and recarved by another man. Is there an old grave in Milton now unmarked, or from where did an evidently finished early gravestone become available?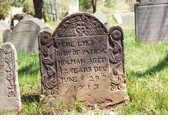 PATIENCE HOLMAN, 1713: This is a slate-type design executed on brownstone, or Connecticut sandstone. Excepting the product of one Essex County craftsman, there are only a handful of early gravestones using this material in the area; two, in Newport, are by William Mumford. This is probably by one of the carvers thought to be his apprentice, now tentatively identified from initials engraved on their work.
SETH SUMNER, 1771: The design on this stone is iconographically rare and important, with its released spirits reigning in an anthropomorphized cosmos. It is attributed on the basis of probate evidence to Henry Christian Geyer.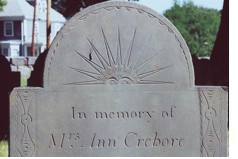 ANN CREHORE, 1797: There are several sun/horizon carvings here, symbolizing the end of life on Earth and the commencement of that which is eternal (it is setting or rising). Though the suns are often anthropomorphized, this is the only know example of a hairy sun face, which is both strange and comical.
JOSEPH FENNO, 1767: This is an especially elaborate design by Geyer, certainly one of his masterpieces.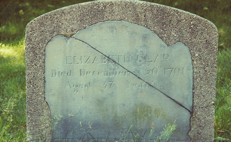 ELIZABETH CLAP, 1701: This amateurishly lettered "headstone" was actually created from that portion of another gravestone intended to be below ground. Upside-down foliate bottom and side borders can be seen at and below ground level on the inverted monument; whether it still exists in entirety can't be known without excavation. Judging by these borders, the re-used original is least fifty years newer than the date on this make-do production. Was Elizabeth's old marker somehow destroyed, and why was it replaced thusly? Unfortunately, in the process, some subteranean carving (this is where initials, prices, or chisel tests are sometimes found) was scratched out to clear an inscription field.
LIEUT.. ROBERT VOSE, 1760: This is an iconographically important artifact, possibly from the hand of Henry Christian Geyer. (Although the skull appears awkward compared with Geyer's best-known work, some of his minor productions and foot stones used similarly craggy skulls.) The unusually asymmetric tympanum is filled with symbols of mortality: a scythe (rare), the "naturalistic" skull (rarely unstylized), the flame of life - represented by a candle in a fancy holder - being snuffed (rare), and an hourglass.
REV. JOHN WADSWORTH, 1766: The design of this stone, possibly from the workshop of James New, includes a delightfully detailed torso portrait of the deceased under the banner, "A Sudden Death."
THEODORA THACHER, 1697: Made of Connecticut brownstone, probably from the quarry at Middletown, this is one of a relatively small group of seventeenth and early eighteenth century "table stones", usually raised up on legs or brick bases to mark tombs.* It does not appear to be recut as some inscriptions on these are, being as they are especially vulnerable to erosion from rain. While typically having a recess to hold an inlaid plaque of slate (often a coat-of-arms, and now usually missing), this table stone is one of the few with decorative corner devices resembling fleur-de-lis.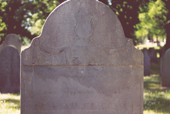 SAMUEL BENT, 1797: This is an austere but delicate neoclassic design featuring a handsome urn and draped shroud, signed at the bottom by B. Adams. Signatures in the eighteenth century are quite rare.
SARAH THACHER, 1764: This is the northernmost example of David Linkon's work. He and a small group of other Bristol County stone cutters employed strange central designs on their gravestones consisting of complicated arrangements of tendrils, organic and geometric shapes and drill holes.
ANN SWIFT, 1762: Another tour de force carving by Geyer, who placed an unusual number of his best works in the Milton burying ground, this includes a rarely-attempted three-quarter view spirit effigy, scallop device, flaming heart and Bible verse.
By highlighting these few gravestones, I do not mean to suggest that they comprise the principal interest of the Old Burying Ground section. There are ambitious, if less skillful, imitations of Geyer's angels; a charming profile portrait; exceptional productions, some documented by probate evidence, from at least two generations of Fosters; home-made markers; and many other remarkable decorative carvings, as well as innumerable poetic and elucidating epitaphs.
The first four purchase areas contain Milton Cemetery's oldest monuments, marked on the east by a long row of mound tombs and bounded on the west by grassy, indistinct Walnut Avenue. Gravestones here are predominantly slate, set directly into the ground, with a scattering of marble slabs, and a few later granite monuments and obelisks. The majority are arranged in rows facing Centre Street, or roughly northwest, though many are also laid out in a roughly perpendicular pattern facing the southwest. Neither direction is typical for gravestone orientation in New England. There are almost no foot stones; they were undoubtedly discarded at some time in the past to make maintenance easier.
The ground is slightly undulant, but fairly level. Gravestones are generally plumb and level; sinking and tilting do not contribute significantly to a need for extensive resetting. There is much evidence of past attempts to repair and consolidate the old slates. Approximately 32 gravestones have been encapsulated in cement holders; these have all failed or are failing. Many stones were "fixed" using an unknown adhesive; these repairs have all failed or are failing. In addition, several markers were held together with bolted iron hardware which is corroding, expanding, and causing further fractures.
But the greatest and most immediate threat to these early gravestones is extensive delamination, proportionally the worst I have seen. Delamination occurs between layers of a bedding type stone like slate when water seeps into fissures at the edge and forces them apart by freezing. Repeated cycles of freezing and thawing can actually force outer layers right off the monument; splits through the middle can undermine its entire structure. So advanced is this process among the old stones in Milton that a vandal with a baseball bat could easily - and quickly - deface many of them. A few are so compromised that they wouldn't even survive the slap of an open hand.